Meet

The AC & Furnace Repair Team in Des Moines

Each one of our professionally trained technicians goes above and beyond to maintain the comfort and safety of your home.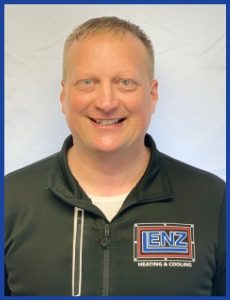 Al Lenz
General Manager
I am an Iowa native who has worked in the Heating and Cooling Industry in the Des Moines metro area for 26 years. I've been married to my wife, Jenny, since 2019. I have a daughter and son of my own and two bonus daughters through marriage.
I graduated from Lincoln High School in 1991 and enlisted in the military immediately thereafter. After serving my country in the Marine Corps for four years, I attended DMACC for Plumbing, Electrical, and High and Low Pressure Boilers. I continued my education at Vatterott College where I studied Heating, Cooling, and Refrigeration. I graduated at the top of my class with honors. I then worked my way up through the ranks; Service Technician/Installer, Service Manager, Operations Manager, and finally General Manager. Over the years I've acquired a wealth of knowledge in business, HVAC, and my personal favorite, customer service.
In 2009, I embarked on my mission: To own and operate the BEST residential heating and cooling company in the state of Iowa. I carry an Iowa Masters License in HVAC, Heating and Cooling, Refrigeration, and Hydronics. I am Licensed, Bonded and Insured.
I am proud to be the owner of one of the fastest-growing residential heating and cooling companies in the Des Moines area. All I ask for is just one service call or one invitation to your home. I strive to earn your trust before I earn your business. When you choose Lenz, you will soon realize that we focus on building lasting relationships to acquire lifelong clients.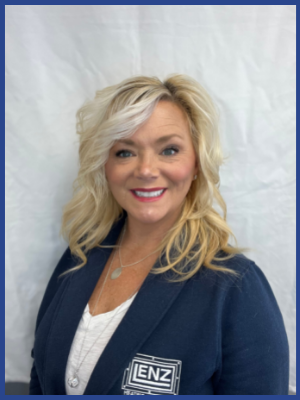 Jenny
Operations Manager
Jenny started her journey with Lenz in 2016. She is a graduate of Creston High School. After graduation, Jenny continued her education at Iowa State University and received her degree in finance. Prior to working for Lenz, Jenny has been a licensed insurance agent, training specialist, and GM of restaurants.
Jenny has two children of her own and two additional "bonus children". Their blended family keeps them on their toes as each child has their own interests.
When not working at Lenz, Jenny enjoys spending time with family, friends, and date nights. She also enjoys cooking, gardening, and painting. Flipping homes is a passion, but with a busy life, that hobby often takes a back seat.
As an employee of Lenz, Jenny brings years of customer service. She also has a vast understanding of finance to make the office run smoothly. Jenny works well under pressure which comes in handy during an Iowa heat wave or cold spell. She values each client relationship and treats them like family.
Choosing Lenz was easy because of their honesty and integrity. They stand behind their word, their product, their service, and most importantly, their people.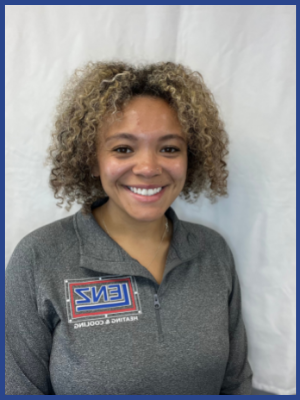 Sierra
Office Manager
Sierra grew up on the south side of Des Moines where she graduated in the class of 2015 from Dowling High School in West Des Moines. Upon graduation, Sierra went on to pursue a degree in Communications and Event Planning while playing collegiate softball. Indian Hills CC was her first stop where she achieved All American status. She earned her Bachelor's Degree and finished her collegiate career at Virginia Tech in December of 2019.
Sierra has 3 siblings and a fur baby, Keystone. While she still enjoys watching sports from time to time, it is more common to find Sierra enjoying a good book, movie, or anything outdoors, especially if Keystone can tag along. Documentaries are a little known favorite.
Sierra is involved in all aspects of the business from the office, to installs, to running service calls. She worked part time for the company a few summers ago and was excited to get back in the business after attending college.
Sierra chose Lenz Heating and Cooling because she liked the idea of being a part of a family owned business that is growing. She was excited about the fact that she could utilize her communications training and expand her knowledge of small business by her broad involvement in the company. She was most interested in Lenz because she could see where growth could be achieved and looked forward to collaborating with the team to reach new goals.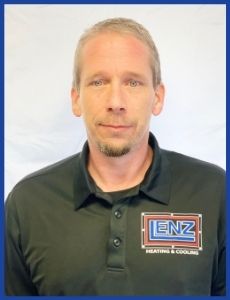 Dan
Service Technician/Installation Expert
Dan grew up in Des Moines, IA and he graduated from Lincoln High School. He started out in the HVAC industry as a delivery man and he has worked his way into service and installation. Dan collectively has 17 years of experience in the field.
Dan is a proud Grandpa and father of his 3 daughters and 2 sons. He enjoys the outdoors and loves spending time with his family and dogs. In his free time, Dan enjoys fixing things in his shop and long walks on the beach.
Dan chose Lenz because he believed that his morals and values aligned well with the values of the company. He has the same feelings towards hard work and customer service. Dan believes that the dynamic of the Lenz team is nothing like he's ever seen. He enjoys being part of a company that has a positive outlook.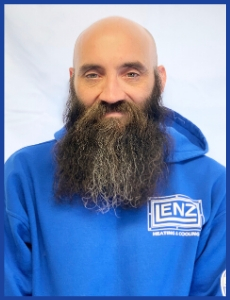 Jeff
Installation Expert
Jeff also grew up in Des Moines, IA and graduated from Lincoln High School. After High School, he continued his education at Des Moines Area Community College. Jeff has 5 years of HVAC experience.
In his free time, Jeff spends time with his dog, Sasha. He is also interested in cars, specifically, his Mazda Miata.
Jeff was referred to Lenz by our other team member, Dan. He enjoys the fact that we are an honest company who cares deeply about our customers and that we give back to the communities we serve.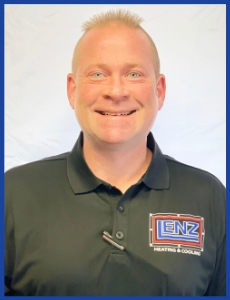 Curtis
Lead Installation Expert
Curtis was born and raised in Des Moines, IA and he graduated from Southeast Polk High School. He served in the US Navy from 1996 to 2000. He started working in the industry shortly after and he now has a total of 16 years of HVAC experience.
After work, Curtis goes home to his wife, Jennifer. Together they have three kids, Samantha, Curtis Jr., and Jackson. In his free time, Curtis likes to grill out and smoke meats. He also enjoys cheering on his favorite NFL team, the Pittsburgh Steelers.
Curtis chose to work for Lenz because of the family-owned aspect and because he knew it would be a great fit for him.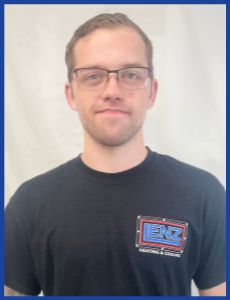 Drae
Installation Expert
Drae grew up in Urbandale, IA and graduated from Urbandale High School. He has 1 year of HVAC experience under his belt.
When he's not working, Drae spends time with his parents and his 3 sisters. He enjoys lifting weights, playing video games, and knowing various facts that others don't typically know.
Drae chose to work for Lenz because it seemed like a great fit and he was excited for an opportunity to learn and grow within the HVAC industry.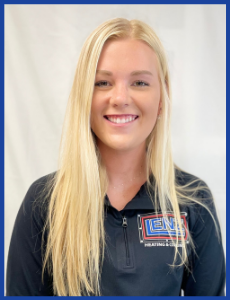 Lexi
Office Assistant
Lexi was born and raised in the Des Moines metro and she graduated from Winterset High School in 2019. She just recently graduated from Southwestern Community College with her Associate of Arts Degree. She plans to attend Buena Vista University in the Fall with an intent to earn her bachelor's degree in Elementary Education.
Lexi has two loving parents, two older sisters, Sierra and Olivia, and a younger brother named Freddie. She is also a proud dog mom to her Golden Retriever, Oakley. In her free time, Lexi enjoys spending time with her friends and family.
Lexi chose to work for Lenz because she was attracted to the family-oriented aspect of the business. She is hoping her experience at Lenz will better prepare her for a professional career.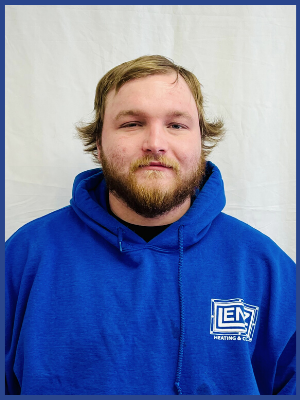 Trent
Installation Expert
Trent started with Lenz early 2022.  He had worked for Lenz through our apprenticeship while in high school. Born and raised in Winterset, Trent still resides there.  
He is a graduate of Winterset High School in 2017.  In addition, Trent has 2 years experience in HVAC and several years experience in construction.  
In Trent's free time, he enjoys working on cars and playing the box drum. You will often find Trent venturing out riding ATV's.  His dog Duke is his most trusted companion.  
When asked why he chose Lenz, Trent stated that the team is full of great people.  The owners are great to work for and be around.  They treat you like family and not just a number.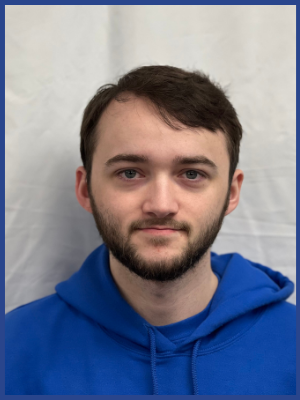 Gavin
Installation Expert
Gavin began his career with Lenz in March 2022.  He was born in Des Moines, but spent much of his early childhood in Creston.  His family later relocated to West Des Moines. Gavin graduated from Waukee High School in 2020.  
Gavin's family consists of his father Corey and his twin sisters, Bryn and Falyn.  His family also is the proud owner of a mixed breed dog named Beeji. 
In Gavin's free time, he enjoys playing video games, as well as spending time with friends.  He also enjoys reading a good book.  
When asked why he chose Lenz, Gavin stated that it seemed like a fun place to work.  He was also pointed in our direction by his father when Gavin had expressed interest in getting into HVAC trades.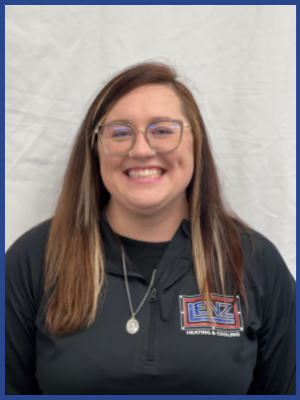 Jaimie
Office Assistant
Jaimie started with Lenz in March of 2022.  She was born and raised in Woodward Iowa, and currently resides in the Des Moines area.  She is a graduate of Woodward Granger High School. Upon completion of high school, she continued her academics at Muscatine Community College where she also played softball.  Next up for Jaimie, was training at the Art Institute of Dallas where she studied Baking and Pastry studies. 
Jaimie has a large family tree with an older sister, 2 step brothers, and 3 step sisters. She is also the proud owner of a friendly old dog named Fleet. 
In her free time, Jaimie likes to stay active.  She loves the outdoors.  She also stays active playing slow pitch softball and both plays and coaches volleyball.  Hanging with family is also something that Jaimie does in her free time.  When she can't be outside, you can find Jaimie playing card games or enjoying a puzzle. 
Jaimie chose to join the Lenz team because of the close family environment, that it is family owned, and they appreciate their employees. Welcome Jaimie!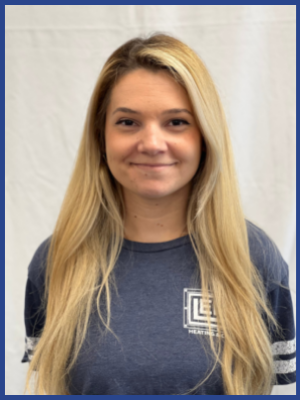 Lorena
Office Assistant
Lorena Started working at Lenz in May 2022.  She was born in Zenica, Bosnia.  Shortly after her birth, they moved to Sweden.  After a few years in Sweden, her family moved to Croatia until their immigration to the United States.  Lorena grew up in the Des Moines area and attended Johnston schools.  Upon graduation 2011, she continued her education at the University of Iowa and studied Psychology and Human Relations and obtained her degree in 2015.  
Lorena is married to Cole, whom she adores.  He is originally from Broomfield Colorado.  At home, they are proud dog parents to Luna and Ransom.  Luna is a 10 pound Yorkie who is the leader of the house.  Ransom is a 200 pound Mastiff that is the biggest baby you will ever meet.  
When not at work, Lorena enjoys painting when the creative spark strikes.  You may also find her at any local dog park petting all the adorable dogs.  
Lorena chose to work at Lenz because she was very impressed with the way ownership treats their staff.  She felt they valued everyone from clients to employees.  Welcome Lorena!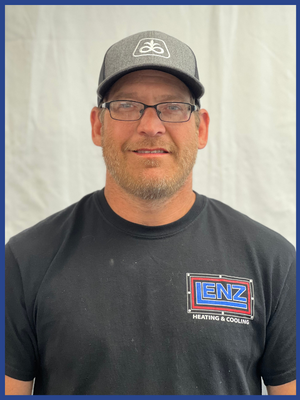 Shane
Installation Expert
Shane was born at his grandparent's farm in Fontanelle, IA.  He grew up in Fontanelle and graduated from Nodaway Valley High School in 1998.  After graduation, Shane moved to Oklahoma for a short time.  
Shane has 3 siblings, an older brother and 2 younger sisters.  He is also the father of 2 boys and also has a daughter.  
When not working, Shane enjoys spending time with family and friends.  He also enjoys camping and being outdoors. 
Shane made the choice to work for Lenz because he loves the family work environment and the fact that the experience each day is different.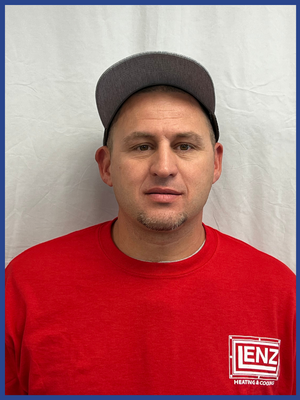 Brandon A
Installation Expert
Brandon joined the Lenz Team in October 2022.  He was born in Wilmington, NC.  He attended Dorothy B Johnson Elementary School.  After elementary school, Brandon moved on to Trask Middle School and eventually graduated from E A Laney High School.  Brandon's first taste of heating and cooling came at the age of 14.  He fell in love with the work.  He now has over 21 years of experience in the industry. 
Brandon shares his time with his family.  His wife Maria, mother Thelma, and 3 children, Rachel, Isaiah, and Caliegh. In addition to this, they also have 2 "annoying" dogs, and 2 guinea pigs. 
Brandon is a self proclaimed "bible thumper".  He has a great love for his church.  Studying the bible is also a passion of Brandon's.  You will also find Brandon cruising around on his Harley.  His children occupy much of his free time.  He is very fond of fishing too. 
Welcome Brandon to our team!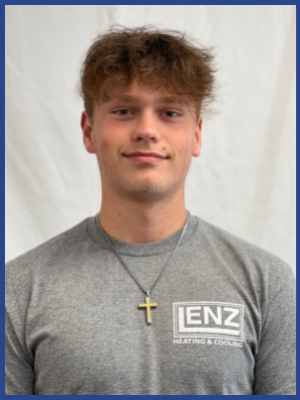 Freddie
Part Time Installation Expert
Freddie was born in Polk City, but spent most of his childhood in Winterset.  He recently relocated to the Des Moines metro area.  Freddie will graduate from Winterset High School in 2024.  
Freddie's comes from a blended family.  Parents Al and Jenny and sisters Lexi, Olivia, and Sierra.  He also has a dog named Max that is worth a million bucks. 
When not working at Lenz, Freddie enjoys hanging out with friends.  He also enjoys football and playing video games.  Fishing is also an activity that he enjoys.
Freddie chose Lenz because he grew up around the company.  He has taken an interest in the business and hopes to one day become an owner.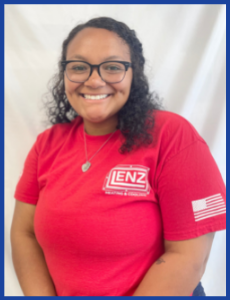 Liv
Field Assistant
Olivia was born and raised in Des Moines and she attended Dowling Catholic High School Until 2016. She graduated from Winterset High School in May of 2017. She has been in many roles for Lenz and has a total of 3 years of experience in the industry.
Olivia has 3 siblings and a black golden doodle named Frisco. When she's not running errands in the Lenz truck, she enjoys hanging out with her friends and family. She absolutely loves working with children of all ages and she has 2 years of experience as a Para-Professional. 
Liv chose to work for Lenz because she wanted to be a part of the family business. She was excited to work and stay busy during the summer months while school is out for break.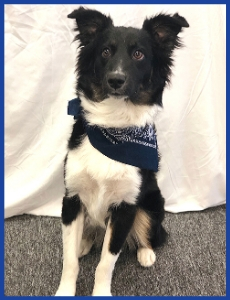 Keystone
Office Dog
Keystone, named after Colorado, was born in June of 2019. He is a very intelligent Mini Australian Shepherd who would make a great herding dog, if given the opportunity. If you ever hear barking in the background while talking with a Lenz employee, that's most likely Keystone greeting a visitor.
After a long day at the office, Keystone enjoys doing zoomiez around the backyard or cuddling up with Sierra while watching TV. His favorite activities are tricks with treats involved, belly scratches, and shredding toys around the house.
The next time you're in the area, stop by to say, "Hi!" to this adorable wiggle butt!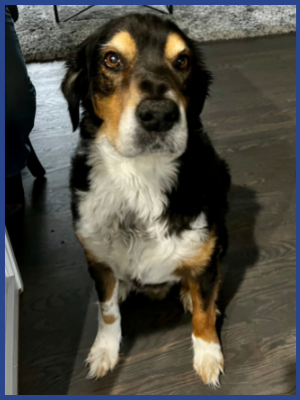 Max
Office Dog
Max turns 7 years old in April 2022. He is a mut~ but is the best mix imaginable and worth a
million bucks. His protective nature comes from his rottweiler heritage, and his loving nature is
his American Shepherd side.
Max loves attention and is a great cuddle buddy. He enjoys scratches behind his ears and nose
as well as belly rubs. A long walk always excites Max. He tends to lead his owners, Al & Jenny,
on each adventure.
Max is spoiled and lays in the kitchen while meals are being prepared with the hope of getting a
"special treat". He also sits by Al's feet each morning for breakfast as he is assured the last
couple bites from his best friend, Al.
Max doesn't get to make the trip to the office often, but supports Al & Jenny in their daily
business adventures and is the best greeter when they get home from a long day's work.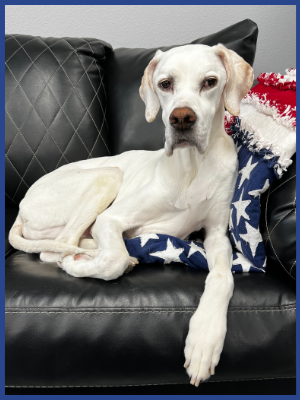 Fleet
Office Dog
Say hello to Mr. Fleet. He is our newest addition to the Lenz dog family. He is a 12 year old English Pointer. He was named after a fleet of ships. He is a very calm and loving dog. With his calm demeanor, he fits in with all of his different friend groups. In his spare time, you will find him snoozing on the couch or his very fluffy bed. When he isn't taking his 15 daily naps, you will find him digging as many holes as he possibly can. Fleet's favorite trick is to sit awkwardly in the middle of the room until he gets your attention. If you are close, please stop in and witness his awkwardness in person.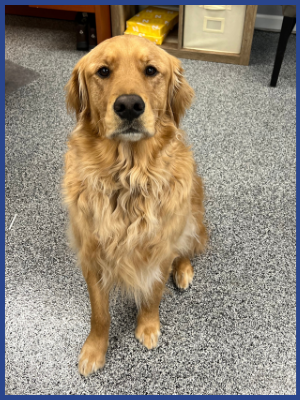 Oakley
Office Dog
Oakley is a 2 year old Golden Retriever. He is an extremely chill and happy dog. He rarely barks, and is fond of greeting visitors at the door. He loves chew toys and will often be found sharpening his teeth on a deer shed in the office. He is content to simply lay on the sofa and gaze out the window. Oakley also enjoys a good game of fetch. He will bring his ball to you and play with you until your arm can't throw any more. Stop by any time and meet Oakley!